If you want a solid keyboard for your studio, there are lots of options at many different price points. Last year's introduction of the Komplete A-Series gave Native Instruments a strong foothold in budget-minded keyboards. But for many producers, having a set of keys that is even more portable (think small carry-on backpack ready) is clutch. That's exactly where the Komplete Kontrol M32 comes in.
Komplete Kontrol M32

Gear: Komplete Kontrol M32
Manufacturer: Native Instruments
Price: 129 USD, 119 EUR, 14800 JPY, 99 GBP, 189 AUD, 169 CAD, 899 CYN
Availability: March 6, 2019 (pre-order from the DJTT shop)
[embedded content]
This new keyboard is clearly designed to be a budget pick, with a $129 price that's likely to feel relatively realistic to most producers. It's a generous 32 keys, with two touch strips on the left of the keys, plenty of buttons and encoders for basic preset loading, controlling instrument parameters, and working inside of your DAW. It also has the same small screen that we saw on the A-Series keyboards that allows you to quickly see what you're controlling or have loaded.
Don't expect a lot of I/O bells and whistles – there's just a footswitch port, a Kensington lock port, and a USB port on the back of the unit.

Honestly, if you're considering a portable keyboard, this isn't a bad option. Compared to similarly priced offerings from Akai, Arturia, Novation, Roland, and others, this could be a good fit. We're guessing that the keys feel similar to the A-Series keys, which were impressive for the price range.
The other value here is added software packaged in – buying a M32 includes MASCHINE Essentials, Ableton Live 10 Lite, NI's MONARK synthesizer, and more.
Komplete Audio 1 + Audio 2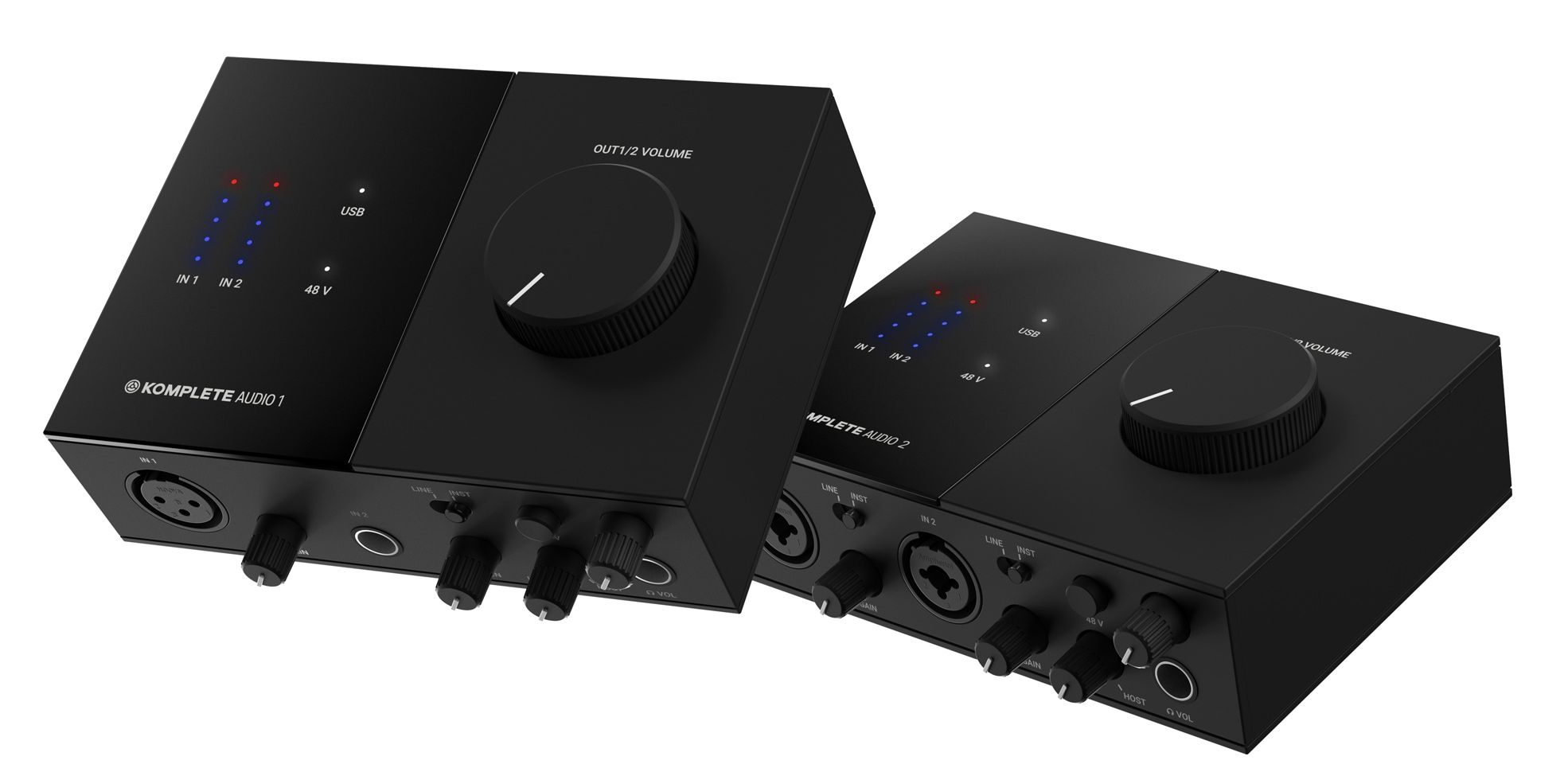 NI is bringing back their audio interfaces with two new budget-minded releases, the Komplete Audio 1 and Audio 2. These are being tauted as simple but high quality two channel audio interfaces. Here's the specs for each:
Audio 1
Priced at $109 US (pre-order from the DJTT shop)
Inputs: has an XLR mic in with 48V phantom power and a jack (1/8″), each with gain control knobs
Outputs: Stereo RCA and direct monitoring headphone jack with zero latency and high power
Audio 2
Priced at $139 US (pre-order from the DJTT shop)
Inputs: 2x combi-XLR/jack inputs with 48V phantom power
Outputs: Stereo jack out and direct monitoring headphone jack with zero latency and high power
[embedded content]
Both models have a VU meter on top, and large volume knob to adjust the levels. There's also the ability to dial between input and host on your monitor – letting you hear playback while recording. They're USB 2.0 powered, and have 192 kHz, 24-bit soundcards inside.
These units also come with bundled software, just like the M32: Maschine Essentials, Replika delay plugin, Solid Bus Comp, Phasis, Monark, Komplete Start, Ableton Live Lite, and two months free subscription to Sounds.com.
Author: DJ TechTools