Author: BBC Sport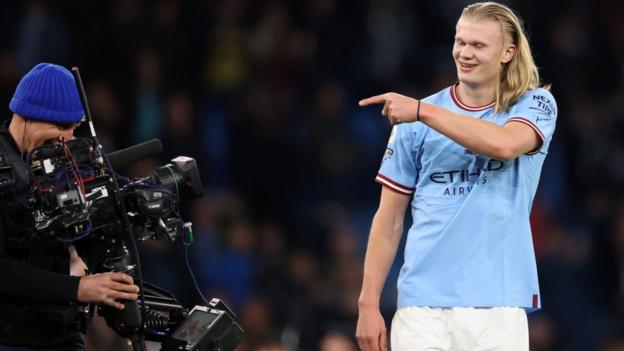 The Premier League has agreed a new record £6.7bn domestic television deal for Sky and TNT to show 270 live games a season.
The deal includes the BBC continuing to show highlights on Match of the Day.
The top flight said the deal, which covers the four years from the 2025-26 season, is the "largest sports media rights deal ever concluded in the UK".
The Saturday afternoon 3pm blackout will remain in place, but every 2pm Sunday kick-off will be televised.
The BBC has also been awarded additional digital rights for its online platforms.
Sky has been awarded four of the five packages and will show a minimum of 215 matches a season including all Saturday 5.30pm kick-offs, Sunday 2pm and 4.30pm kick-offs, plus games on Mondays and Fridays and three midweek rounds.
TNT will show a minimum of 52 matches a season including all 12.30pm kick-offs on Saturdays and two midweek match rounds.
Sky Sports will also broadcast all 10 matches on the final day of each season.
Amazon, which shows 20 matches per season under the league's current deal, has not secured rights in the new agreement.
This is the first time the Premier League has been through a tender process for its rights since 2018.
The current £5bn domestic TV rights deal, which expires at the end of the 2024-25 season, was allowed to be extended because of the Covid-19 pandemic.
"The outcome of this process underlines the strength of the Premier League and is testament to our clubs, players and managers who continue to deliver the world's most competitive football in full stadiums, and to supporters, who create an unrivalled atmosphere every week," said Premier League chief executive Richard Masters.
More to follow.